A chef's take on the Moscow Mule
This famous cocktail was first invented in 1941 by a vodka seller (John Martin) and a ginger beer producer (Jack Morgan). With the aim of attracting attention to their products, the two decided to combine the ingredients in a cocktail served in a copper mug complete with handle.

It was an instant success and today the Moscow Mule remains a fashionable classic enjoyed all over the world.

The cocktail's leading ingredient? Ginger! Kuantom's mixologist collective used the same ingredient to create this signature mixer, designed to not only pair perfectly with Glenmorangie Whisky, Belvedere Vodka and Hennessy Cognac but also to create delicious mocktails*.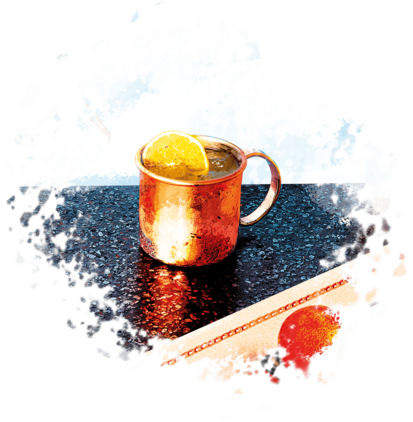 The perfect balance of spicy energy and softness
The secret to this extraordinary cocktail lies in ginger's alliance with two other incredible ingredients, creating an explosion of flavours that propels us into another world, under a starry sky, contemplating the universe...

The perfectly balanced note of spicy ginger interweaves harmoniously with the sweetness of lightly honeyed orange blossom.

At first, the cocktail is soft on the lips, with the spice awakening the taste buds and remaining on the palate for an unforgettable moment.

"A superb design combining ginger, honey and orange blossom guaranteed to please many palates." Matthias Giroud
One signature mixer for four exceptional recipes
Our Orkestra solution enables us recreate the recipes designed by the Kuantom collective and to serve cocktails with consistent quality, from the first to the thousandth pour, with 100% natural ingredients.

These very fashionable recipes are guaranteed to make the taste buds travel:

• Astral: Ginger's lively flavours are combined with orange blossom and a hint of honey and lime to create an invigorating long drink topped with sparkling water. A mocktail* for any time of the day.

• Moscow Moon: A moon-coloured cocktail that brings together the natural flavours of Belvedere Vodka and ginger's magnetic charm. Honeycomb brings sweetness, while delicate notes of orange blossom and lime juice add freshness. Topped with sparkling water.

• Space Cliff: Glenmorangie's subtle, fruity flavours are paired with orange blossom to echo the radiant combination of ginger and lime.

• Rolling Star: Like a glittering star in the outer confines of the universe, Hennessy's character is brought out by refreshing ginger and enveloping notes of honey and orange blossom. A dash of lime juice adds zing to this delicately refreshing cocktail.

To find out more, speak to our Head Mixologist here.

Alcohol abuse is dangerous for your health. Please drink responsibly.

*Alcohol-free cocktail.